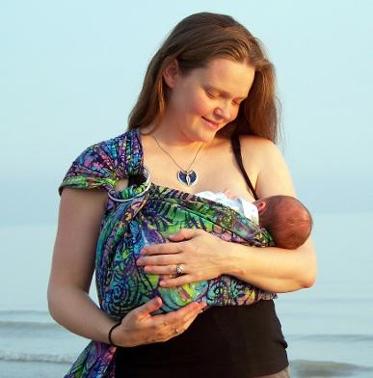 Babywearing
Babywearing creates an intimate bond that can last a lifetime. Your carrier allows your baby to watch the world, or sleep and nurse comfortably, all while snuggled peacefully next to your heart. Easy to use, hard to live without, learn how to sling today with our video tutorials below.
Need help?
Book now with Amanda to learn how to breastfeed in a baby carrier
Baby Wearing
Have you discovered that your baby is happiest in your arms? Do you want to nurse on cue and keep baby content, while tending to your needs and the needs of your family? Wish you had a third arm?
You need a sling! An unpadded ring sling is a wonderfully versatile baby carrier that allows you to wear your newborn baby close to your heart, skin to skin, with easy access to your breast. There are no snaps, straps, velcro, buckles, layers of wrapped fabric or other impediments to removing a sleeping baby and transferring them to their bed or carseat.
Slings enable you to carry your baby in almost any position: cradle carry, sitting up and facing in, sitting up and facing out, legs in or out, and every toddlers favourite...the hip carry! Your sling grows with your baby, from newborn to toddlerhood, if you are carrying your child you can sling them!